it's been nearly a month since my last post… and it's nearly the end of february! i have tons of projects i've been starting, which i hope to share with you soon enough! meanwhile, here's my fashion trend study for 2007-08 autumn / winter!
最後の更新から約1ヶ月が経ってしまいました!もう2月末!たくさんの新プロジェクトを計画している最中で、近々ご紹介したいです⭐︎ それはさておき、今日は2007−08年のトレンドスタディーをご紹介します。
[ A/W 2007-08 ]
– what happened in 2007 / 2007年のファッション出来事 –
the cat eye / キャットアイメイク
patent leather / パテントレザー
black on black outfits / ブラック・オン・ブラック コーディネート
biker rocker chic / ロッカーシック
40's glamour / 40年代グラマー
PURPLE / 紫
nomad / 遊牧
stand alone coats / ワンポイントコート
the first michelin guide tokyo happened! / ミシュランガイド東京版が初めて発売された。
overall, there were a lot of contrasts within a look. for example, country + town (i.e. equestrian style boots combined with modern and clean styles), military + elegance (i.e. epaulet accessories or berets combined with fit and frilled blouses + tight pencil skirts), voluminous puffers in lady-like looks (quilted capelets), and black on black on black VS any kind of PURPLE & bold, beautiful, stand out jewel tones.
全体的に対照的な要素を組み合わせたアイテムやコーディネイトが目立ちました。例えば、カントリー+タウン(乗馬風ブーツをモダーンで洗練された組み合わせ)、ミリタリー+エレガンス(エポーレットなど肩を強調するアクセサリー、ベレー帽をシェイプされたフリル付きブラウスとタイトスカートと組み合わせ)、ボリュームダウンをレディーライクに(ダウンのショートケイプ)、そして何よりも黒&黒&黒VS様々なパープルとその他のボールドで鮮やかなジュエルカラー。
[black on black (from left clockwise)]
donna karan, philip treacy for donna karan, burberry x3, aquascutum
[BOLD]
chloe, louis vuitton, alexander mcqueen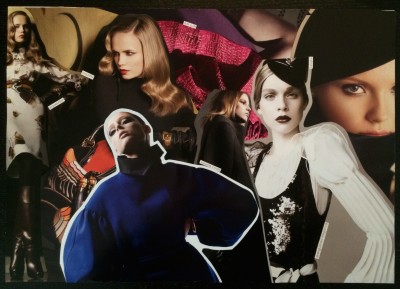 country | equestrian | skirt suit | military | distinguished elegance | standalone + voluminous coats
[country | equestrian]
gucci x2
[skirt suit]
miu miu
[military]
ralph lauren
[distinguished elegance]
chanel
[standalone coat]
(a-line or trapeze coats)
calvin klein
[standalone coat]
(voluminous or cocoon coats)
emanuel ungaro