hi world!! it's that time of week! #tbt #fbf post this week, is in continuation of the save the date from last week. for the wedding invitation we decided to concentrate on a warm hand-drawn feel with more food and drink elements. today i want to show you the overall look and introduce up-close views in the following weeks.
皆さま、こんにちは!今週も来ました!#tbt #fbf は、先週の「セイヴ・ザ・デイト」に続くウェディングパーティーの招待状になります。こちらは、全体的にナチュラルな手書き感と美味しいお食事や飲み物をメインテーマにして作りました。
今日は全体像をご紹介します!次週から1枚1枚の詳細をお見せしていこうと思います。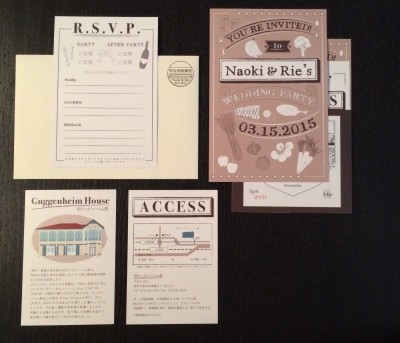 [ wedding invitation set ]
access map | introducing the venue
r.s.v.p post card
invitation with details on back
envelope with personalized postage paid stamp
personalized wine label band with their names
[ ウェディングパーティー招待状セット ]
アクセスマップ | 会場のご紹介
返信ハガキ
招待状本状
オリジナルデザインの料金別納マーク付き封筒
帯はお二人の名前を入れたお気に入りのワインラベル
with any of my wedding items, the bride and groom are fully involved in the design process. i make sure to include as many of their requests in the final product. this series is also one of those, and it is my pleasure and honor to be able to provide something that helps them share their dreams with their family and friends.
どのウェディング作品も、必ずご新郎ご新婦さまのこだわりを込めて、お二人の特別な日に思い通りのものを届けられる事を努めております。こちらのシリーズももちろんその通りで、お二人だけでなく、ご家族やご友人の方々にもその夢をシェアできる事が何よりも幸せです。