this week's #tbt #fbf post features a woodgrain patterned save the date!
今週の #tbt #fbf は、木目調のセーヴ・ザ・デイト!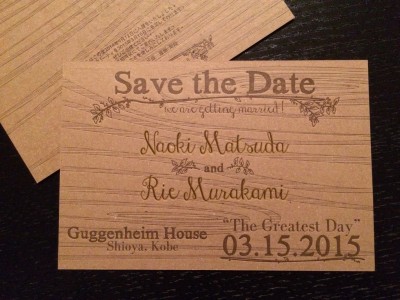 "save the dates" are quite common in western weddings, especially if you live in the u.s. and you plan to invite out-of-towners, it's a nice gesture to give a heads-up to your guests. in japan, it's not quite common yet, but i have had a few "save the date" requests. another way to utilize the "save the date" is as a marriage announcement. here in japan, it is very common to submit a marriage certificate well before the wedding. in a way, weddings here are an event more than an official ceremony. whereas in western countries, [depending on a couple's religious beliefs] weddings are a religious ceremony and marriage may not be considered before the ceremony.
『セーヴ・ザ・デイト』とは、「この日に結婚式を挙げる予定なので、開けておいてくださいね」という招待状の数ヶ月前に送るお知らせです。欧米の結婚式では、州外や隣接している国外の国へお住まいのゲストを呼ぶのによく使用されている習慣です。まだ、細かい詳細が決まっていないが、日にちと大体のロケイションを伝え、航空券の手配やホテルの予約を前もってされるゲストにも親切なお知らせとなります。日本では、入籍のお知らせを兼ねても良いかもしれません。逆に、欧米では結婚式というのは元々神前で行うものだったので、前もって入籍することは日本ほど定着しておりません。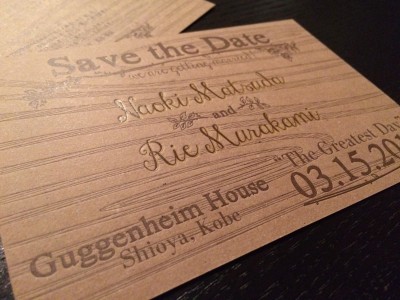 /// the couple gave me permission to use their full names for this post! they really loved this font + design and did not want it hidden. thank you you two!!! / 今回はご新郎ご新婦さまよりフルネームのご使用のご了承をいただいております。このフォントは特にお気に入りでしたので、こちらを是非お見せしたいとおっしゃってくださいました。ありがとうございます⭐︎ ///
the couple for this save the date, had planned their wedding on march 15th, which can be read as saikou (or the greatest [day]). they love great food, mimosa flowers, and enjoy the company of friends and family. a natural rustic theme was a definite for their wedding, so i drew a woodgrain pattern with leaves and branches for accents. as many of my other wedding clients, this couple also really wanted to use the western letterpress look in their save the date card. to really bring out the letterpress look, it's important to consider layers and contrasting line weights, which i incorporated with the illustration elements. they especially liked the handwritten feel in the texts so i chose the font "janda stylish script" for their names. this was all letterpressed on a heavyweight kraft card.
ご新郎ご新婦さまは、3月15日『サイコーの日』にご結婚式を挙げられました。ウェディングアイテムには美味しいお食事とお飲物、ミモザの花と大好きなご家族とご友人と一緒に最高の日を過ごしたいと言うお二人の強い気持ちをこめてデザインを考えました。そして、ナチュラルな木目調を取り入れたい、というお声をいただきましたので、オリジナルの木目調柄と枝や葉っぱを描き、クラフト紙に活版印刷で印刷したのがこの『save the date』。やはり欧米のウェディングアイテムで見られる活版印刷が日本でもとても人気で、念願の活版印刷を活かすデザインを考えることが私にとって凄く楽しいのです。フォントにもこだわり、お二人のお名前には個性的な筆記体を使用しました。