i can't believe it's already been a week since last friday!!! this past week was "golden week" in japan, where a string of national holidays + the weekend make an extended vacation week. i try not to leave the house during this time, because out-of-towners from all over japan and the world crowd the whole city. in fact i always recommend to friends planning to visit from overseas to avoid this time of may. that said, since it is officially friday in japan, here's this week's #tbt #fbf post! explaining something a little different at japanese weddings.
今日はもう金曜日!!ゴールデンウイークもあってか今週もまたまたあっという間に過ぎてしまいました!毎年GW中は混雑を避ける為お出かけを控えるのですが、今年は2度都内に出かけました。ちょうど数年前に比べて外国人観光客が増えたかも〜と思っていたら、ニュースでも今年は観光客が増えたことを言っていました!外国の友人が日本へ遊びに来る時は、GWだけは避けた方が良いよーと伝えるのですが、今回、外国の観光客の方々を見て、人混みの多い都会を楽しむのも東京の観光ポイントの一つかもしれないですね!というところで、今週の #tbt #fbf は、欧米の結婚式と違う日本の結婚式で見られるある事です。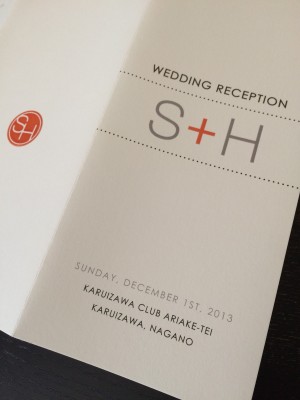 first, to explain a little about seating charts in japan. in western weddings, a seating chart may be found at the entrance into the wedding reception and guests find or are handed a name card with the table number of where to sit. in japan, all guests are handed something called a sekijihyo (or "seating chart"), which tells them exactly where to sit (not only the table number but also the exact seat, at which their name card will already be placed). this seating chart has all the guests' full names, relation to the bride and/or groom, and if the guest is a work acquaintance, their job title as well.
欧米の結婚式で見られないのは『席次表』を渡される事です。欧米の『席次表』は、披露宴の入り口に大きくポスターやウェルカムボードの形をしたものが置いてある事が多いです。ウェルカムボードの近くにはゲストのネームカード(席札)がずらーっと並べてあり、テーブル番号ごとに並べてあったりします。それを持って、指定のテーブルへ行って座る位置を自分で選ぶ事が多いです。(もしくは、指定のテーブルのセンターにネームカードが置いてあり、自分で選んだ席にネームカードを置く事もあります。)ゲストの肩書きや新郎新婦との関係が書かれる事は無く、相手の事を知らない要素が他人との会話をスタートさせるきっかけになるのだと思います。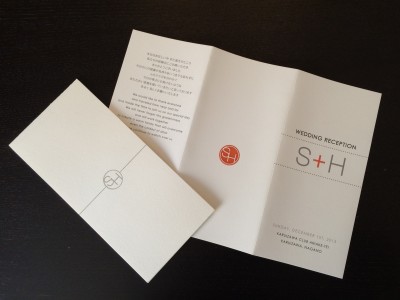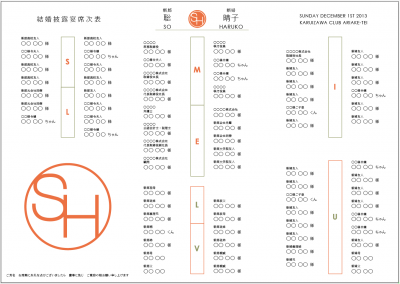 no matter the country or culture, the great thing about being a wedding item designer is that i can be creative, have fun, and see my clients and their guests enjoy the creativity.
最終的には、国や文化が違っても、ウェディングアイテムデザイナーとして一番楽しいのは、創造力を発揮できお客様とそのゲストの方々がそれをエンジョイしていただける事です。
S M I L E L U V