last november, i had the honor of being a part of one of my best friends' wedding; not only as a bridesmaid, but also to design their wedding stationery.
昨年の11月に、親友の結婚式でブライズメイドをしました。それに合わせて、結婚式当日のペーパーアイテムデザインも担当しました。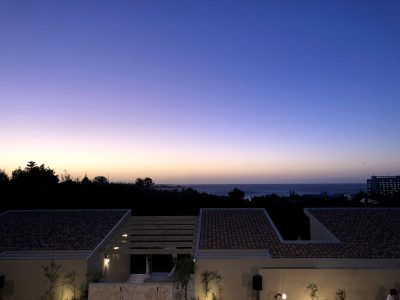 the destination wedding was held in okinawa, at a gorgeous restaurant (il gastro sara) that features organic local ingredients and a breathtaking sunset.
沖縄で行ったデスティネーション・ウェディングのロケーションがまた素敵なレストラン (皿の上の自然)で、沖縄産の食材を使った絶品メニューと美しい夕焼けが最高でした。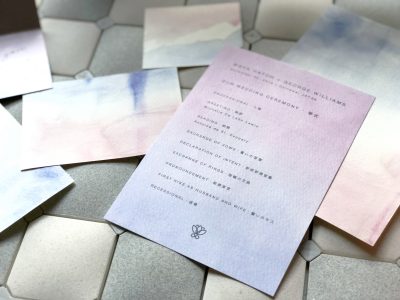 the wedding colors were baby pink and baby blue. now, maya (the bride) is one of the most stylish people i know—her style is one that only she can pull off. so, it was super exciting to help execute the ideas she had in her mind.
デザインをするに当たって、ウェディングカラーとカップルの雰囲気を知った上で、ご要望に合わせたデザインを考えていきます。今回のカラーはベイビーピンクとベイビーブルー。新婦のマヤは、普段からスーパー個性的なファッションセンスを持っているので、彼女の創造を形にするお手伝いが出来て、凄くワクワクしました。
some key words to get the creative juices flowing were: sunset, ocean, "love & peace", and the logo for their husband & wife hip-hop/r&b duo, UnMe. i started off with painting a watercolor background to use for print. i personally love using this method of scanning textured paintings or fabrics in high resolution to use for the background of a printed product. although i am a fan of uber simple, modern and minimalistic design, filling a background can instantly portray vibes, mood, and/or personality.
夕陽、海、彼女のモットー 『love & peace』、そして、二人が夫婦で組んでいるヒップホップ r&b コンビ UnMe のロゴを元にデザインスタート。テクスチャーのあるマーメイド紙に水彩画でいくつかのピンクと青のグラデーション背景を作り、スキャンして取り込みました。無地でミニマルなデザインも好きですが、このように高画質でテクスチャーのある紙や生地を背景にするのも一つの工夫です。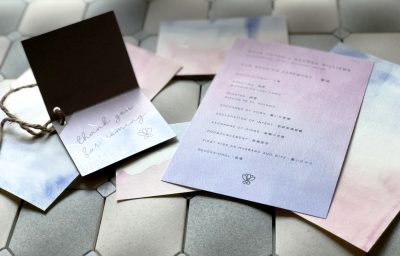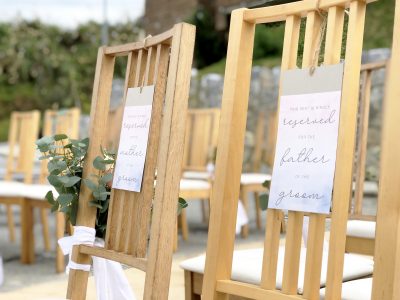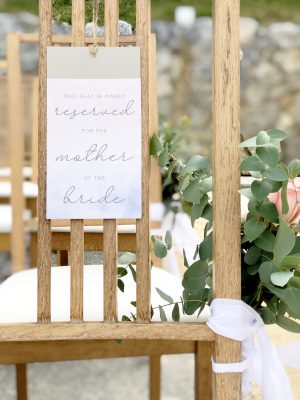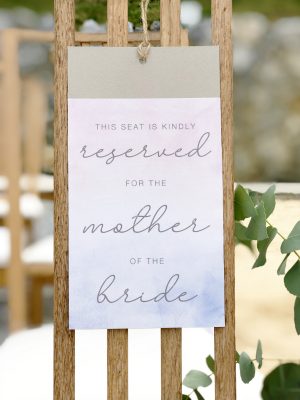 these paintings became the backgrounds for the food and drink menus, programs, mother and father of the bride and groom seating cards, and the thank you tags. for the font, we went with a soft gray to match the pink and blue. the logo seen on the program is the UnMe logo.
このように水彩画グラデーションがそれぞれのペーパーアイテムの背景となりました。フォントとUnMeロゴの色はグレージュにし、全面カラーでも洗練されたシンプルかつ個性的なデザインに仕上がりました。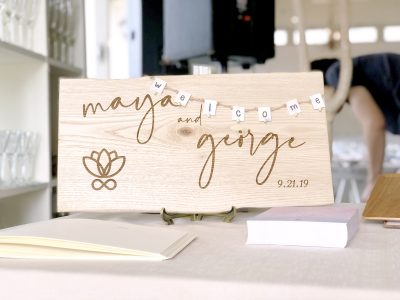 aside from the stationery, i designed their welcome board. i had made one once before for my cousin, and it truly is a lasting piece of the couple's wedding to have in their home together. since i don't have the machinery to do the engraving myself, i go to a tokyu hands in tokyo, which has a wood shop and laser engraving service (they only engrave products purchased in store). first, i choose the slab of wood—organic edges give it a more natural feel—which i then take home to create a design within the board's size (i double check with the engraving counter to make sure that they will allow me to take it home and bring back on a later day with a receipt). it does get pricey since the engraving fee depends on the total square area of the design (including the blank spaces). honestly, though, the finished board is just so beautiful for price to matter.
ペーパーアイテムとあわせて、結婚式当日の思い出として家に飾られるウェルカムボードをギフトとしてデザインしました。以前にいとこのウェディングギフトとしても贈ったことがありますが、ずっと残る世界に1つのアイテムになります。木材へのレーザー彫刻は、東急ハンズで(前回は池袋店でしたが、レーザー彫刻工房が終了し、こちらは渋谷店)注文しました。東急ハンズで購入した木材であれば、木材を持ち帰り、後日デザインデータと持ち込めば、注文ができます(店内購入商品であれば、木材に限らず色々なオリジナルアイテムを作成できます)。値段は少し張りますが、木材に刻まれたオリジナルデザインの完成品は感動物です!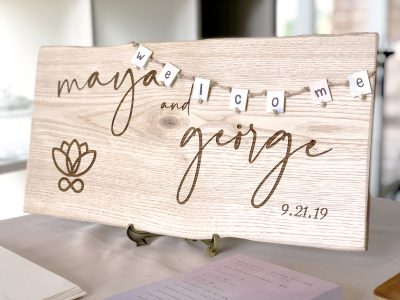 ♡