months keep passing between my blog posts while life keeps going at light speed. like my previous post months ago, i'm playing catch up! it's better late than never, right? >.<
投稿と投稿の間にあっという間に何ヶ月も経ってしまっています。知らないうちに時間が過ぎていて、前回の投稿と同じように、今回も1年弱前のプロジェクトをお見せします☆
during 2020, the year of COVID-19 quarantining, i had gotten so many projects done! this is one of them 🙂
昨年は、新型コロナウィルスの影響で長々とステイホーム生活が続いていましたね。その間に試してみた制作の1つを紹介します。
for the longest time, i was curious about avocado dye.  i came across some posts and accounts that talked about natural dyes, which led me to finding this book, Botanical Colour at your Fingertips, by Rebecca Desnos.  it's such a beautiful book with lots of pictures and step-by-step instructions.  i'm pretty much a beginner dyer (i did a little in fashion college), and the dye turned out very satisfactory.  before purchasing her book, i had read her blog post, when researching how to store avocado pits and skins, and to mordant (a method of prepping) the fabric.
以前からアボカド染色に興味を持っていました。SNSなどを通して、こちらの本に出会いました。アボカドのみならず、色んな種類の植物性染色方法が載っています。ほぼ初めての染色体験(服飾専門学校で少し勉強しましたが)でも、ステップ・バイ・ステップでたくさんの写真が載っていて分かりやすく進められました。元々は、染色するにあたってアボカドの保管方法と生地の媒染工程について調べている中で、この本の作者、リベッカ・デスノスが書くブログを見つけたのです。
overall, the process took a couple of months to complete: from mordant (a way to prep fabric to take dyes better), which is recommended to let sit for at least 1 week; extracting the dye, which takes a few hours on the stove and another 24 hours to let sit; and finally, dyeing the fabric, which you let sit another week after drying the dyed fabric.  every step of the way was so exciting to see the outcome and smelled delicious along the way (the soy milk i use has a very sweet and fresh scent).
全体で言うと、下準備から染色完了まで、全部で2ヶ月くらいかかりました。と言うのも、生地の先媒染(豆乳ベースの液体に浸け、乾いてから少なくとも1週間置く)、染料作り(半日ほど煮込み、24時間は置いておく)、そしてやっと実際の染め作業(乾いてからまた少なくとも1週間ほど)に入る。待つ時間が長いだけに、ずっとわくわくソワソワしていました。この間、無調製豆乳の香りが甘くて爽やかに漂っていました。
ta-da!  for a first time, i was looking forward to having a perfectly imperfect, organic finish.
出来上がり!初回はあえてムラのある仕上がり。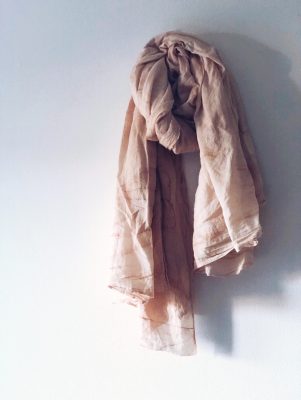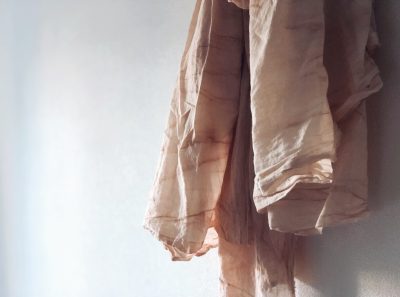 aside from this scarf, i have one more batch of dyed fabric to hopefully sew a sundress in the future!
このスカーフ以外に、いつかワンピースを作るための生地も染めました♡