SANTORINI DAY 6 : B Y E E E E E
the last sunrise was the most perfect one. / 出発日の朝日。この旅一番でした。
one last look from my hotel balcony. / ホテルのバルコニーから最後に。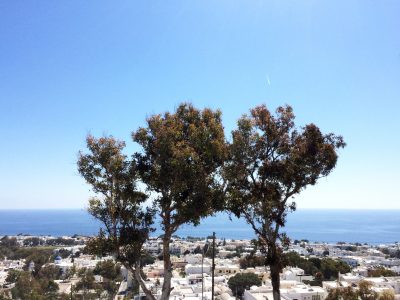 and a bonus sunrise arriving @ doha to transfer. / そしておまけに乗り継ぎのドーハの朝日。笑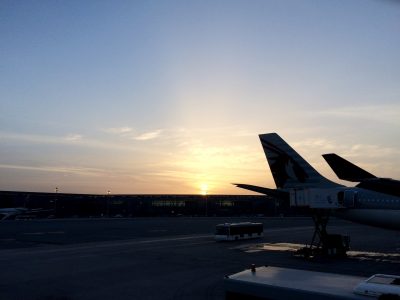 . . . . .
in conclusion, what did santorini give me? / この度から得たものとは?:
1. l a n g u a g e / 言 語
tuning out. i really did it. smiling and nodding, without having to pretend? being clueless to natives possibly saying "this dumb asian chick has no idea what we're saying"? you know, for once, i couldn't care less. my personality (and sometimes what i'm hired for) has me being the problem solver. to communicate for two parties of different languages, being a manager for a fashion show, being an assistant for a magazine, always being in the know of EVERYTHING. for once, i didn't understand. for once, i didn't have to. for once, i could be stupid and not feel guilty for it.
期待通りに「言葉が分からない」という静けさを経験できました。笑ってごまかし、本当の意味の「知らぬが仏」を経験していたのかもしれません。でも、「理解できない」で良かったのです。私の性格は問題解決をしたがるのです(仕事でかなり役立ちますが)。2ヶ国語の架け橋、海外でのファッションショー運営、雑誌のアシスタント、常に全ての状況を把握していなくてはなりません。久しぶりに、把握しなくて良かったんです。知らなくて良かったんです。とぼけていても罪悪感を感じなくて良かったんです。
2. s a f e t y / 安 全 性
it was very safe. the hotel owner was originally from athens, and one of the first things he told me is, "i will be straightforward with you. as a woman, you are perfectly safe on thira. in athens, not so much." the people here were so helpful, if you come up to them lost, they'll speak out first, "tell me" (their version of "how may i help you?"). obviously, though, one can never be too safe and should probably be knowledgeable of the possible dangers of travel overseas.
とても安全でした。アテネ出身のホテル・オーナーに最初に言われたのは、「はっきり言うけど、ティラ島での女性一人旅は安全だよ。アテネはそうはいかないよ。」ティラ島の人々は親切でした。不安そうにしていると、何度も「どうした?言ってみな。」と向こうから言われました。でも海外旅行では、安全な行動をとることには越したことはないので、くれぐれも気をつけて旅をしましょう。
3. g r e e c e / ギ リ シ ャ
there was so much to take in! i'm sure i cannot say i had the complete experience of greece with my one visit to just santorini, but i couldn't be happier to have seen all the sights, history, geology, nature, and food. i learned that the world is a vast, miraculous place with so much more to be discovered.
様々な経験ができました!サントリーニだけでギリシャの全てを知ったとも言えないし、サントリーニの全てを知ったとも言えません。でも、1週間だけでこれだけの景色、歴史、自然、食べ物を経験できて大満足でした。この世界は、本当に雄大で素晴らしいところ、そして、まだまだ知ることがたくさんあるとも感じました。
4. s u n  a n d  p e a c e / 太 陽 と 静 け さ
i definitely got this!! lots and lots of sun and vitamin d (and wind and rain, too)!! the tourist spots were all hustle and bustle; one step into nature, and there was peace—almost untouched, unaltered, raw—an ironic juxtaposition to the history of violent volcanic activity. nature in tokyo, is reformed and planned, even hiking trails are cleanly paved and pruned. humans live on earth, earth gave us life. santorini taught me that we cannot control nature.
これまた、思う存分味わえました。たくさんの太陽(雨・風も)を浴びて、ビタミンDを吸収できました!観光地は人混みでガヤガヤしていましたが、自然界に一歩踏み入れると手つかずの自然、静けさ(過去の激しい火山活動と対象に)とそのパワーを感じました。東京の自然は、計画されていて舗装されていて、手つかずの自然と共に生きているとは全く感じることはありません。人間は、地球を住みかとしていて、地球のおかげで生まれました。サントリーニに行って一番頭に残ったのは、人間は自然を支配できないということ。

it gave me goodness
良いものを得られました
♡