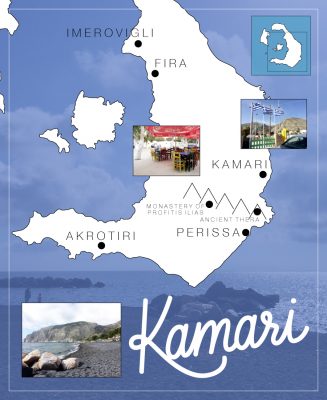 kamari city is where acropole sunrise (my hotel) was located. it is probably most known for the black "sand" (more like pebble) beach. there is walkable access to the ancient thera ruins if you are willing to hike; if not, there is a bus that goes there (the bus stop is near the beach). it is a quaint city, with a bus that leads to fira which is the main bus hub to go to all the tourist spots on thira island. since i went in the very beginning of the season, it was too chilly for the beach and many of the beach side hotels were closed. in peak season i can imagine it must be very lively. many locals live in this town with an elementary school, two supermarkets, a bakery, a souvlaki stand, and some restaurants scattered about, it is a very comfortable city to stay.
宿泊先のアクロポール・サンライズはカマリ市にあります。カマリの名所は黒い砂(どちらかというと黒い小石)のビーチ。古代ティラの遺跡も歩ける距離ですが、ハードなハイキングが厳しければカマリ・ビーチ近くのバスからもアクセスできます。私が行ったのはシーズン始めだったので、海水浴には寒く、閉まっているホテルがほとんどでした。ピーク時はビーチ付近にホテルやバー・レストランが多いので賑わっているかもしれませんが、住宅街や小学校がある静かな町です。ティラ島の中心部でメインの観光地のフィラまでバスで一本。その他の観光地はフィラで乗り換えられます。スーパーが2箇所、パン屋さん、スブラキ・スタンド(ギリシャを代表するファースト・フード、日本で言えばたこ焼き屋さんみたいな手軽さ)、たくさんのレストランなど、とても居心地の良いカマリでした。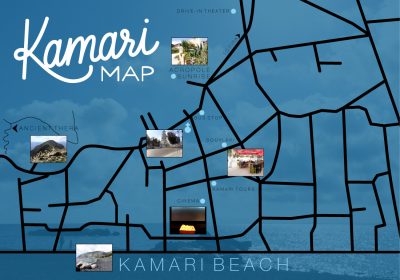 in 1957 there was a big earthquake in santorini. petros' (acropole sunrise's owner) father's house included, the original town of kamari was destroyed. it happened at 10:00-11:00 am, so most people were out of their homes and in the fields. unfortunately, many mothers with little babies that had been staying inside had passed away. the current town of kamari is the new one.
1957年、サントリーニで大きな地震がありました。アクロポール・サンライズのオーナーのペトロスから聞いた話ですが、彼の父親の家を含め、元のカマリ市は破壊されました。午前10時〜11時頃に起きたので、ほとんどの人は外出していました。ですが、乳幼児の面倒を見る母親たちとお子さんたちの多くは亡くなりました。その後、別の場所で再建されたのが現在のカマリです。
there's something significant about getting to hear first-hand, the stories of a precious island so rich in history (geologically and religiously/archaeologically). this current thira is relatively new, a work in progress, living amongst ruins, constant work to create more and more hotels. however, the truth is that they live in a dormant volcanic area (not due to erupt anytime soon–probably not in this lifetime), but the last eruption wasn't too long ago and earthquakes happen. it's a recently modernized island–wifi is still new and electricity comes by way of underwater pipeline. it will be interesting to see how it changes in the near future.
この小さな島が経験してきた様々な歴史(地質的にも、宗教的にも、考古学的にも)の話を直接現地の方々から聞けることは貴重な体験だと感じました。現在のティラ島は、なぜか若く感じます。地震や火山に破壊された地、廃墟とともに暮らし再生を試みている人々。その再生への道に、観光業界という希望の光があったのか、たくさんのホテルが建てられている。現実を見ればサントリーニ・カルデラは休火山で、近年中に噴火する気配はなさそうですが、前回の噴火を経験した人はいて、地震も起きています。wi-fiが入ったのもごく最近で、電気は海底ケーブルを通してギリシャ本土?から来ています。そんなサントリーニ、ティラ島はどのように変わっていくのでしょうか?
. . . . .
– P I C T U R E S Q U E H O T E L S –
– 絵 に な る ホ テ ル –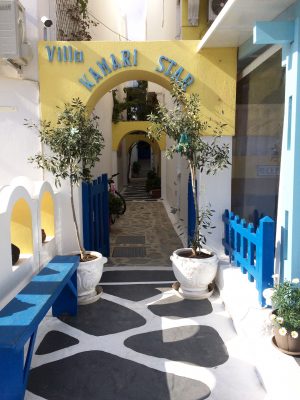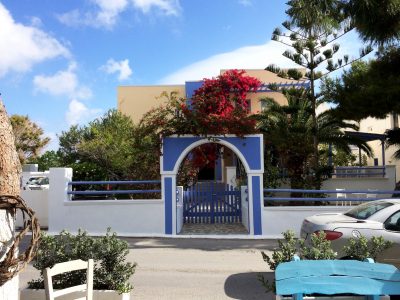 – K A M A R I B E A C H –
– カ マ リ ビ ー チ –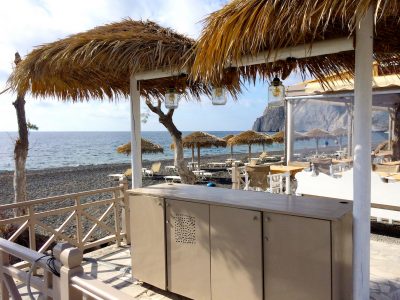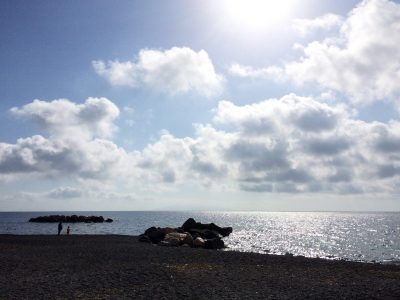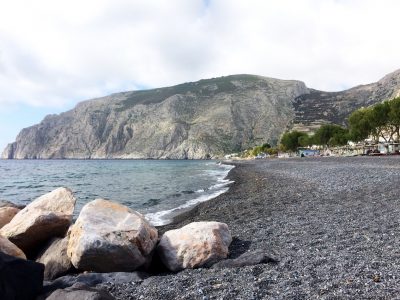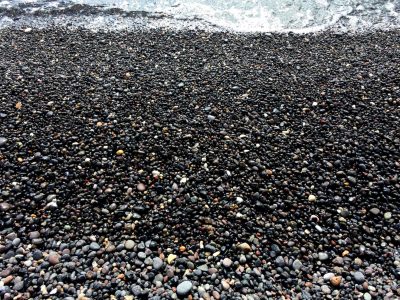 – L O C A L L I F E –
– ロ ー カ ル ラ イ フ –
the supermarket (this one was slightly cheaper than the one near the beach). i bought greek olive oil, soap, and honey for souvenirs here!
スーパー (ビーチ近くのスーパーより全体的に金額が安かったです)。ここでお土産用のギリシャ産オリーブオイルやオリーブオイル石鹸、ハチミツなど購入しました。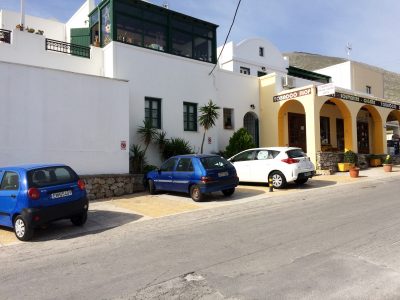 – M O N A S T E R I E S –
– 修 道 院 –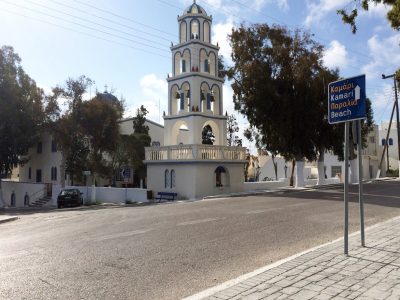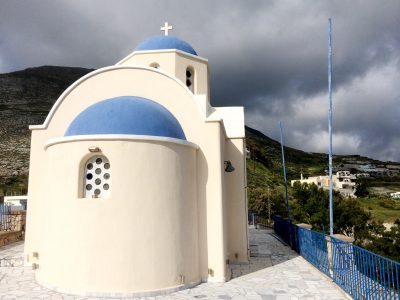 – H O U S E S –
– 民 家 –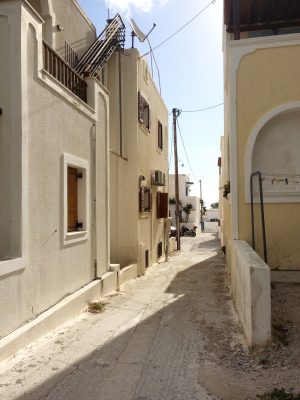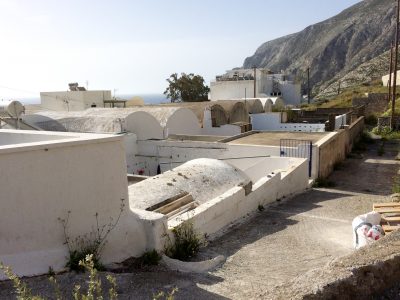 – D O N K E Y S T A B L E S –
– ロ バ 小 屋 –
i saw these on the first day, rows of white long houses across the street from the slovakis/gyros stand. being a fanatic of color, the rainbow colored windows caught my eye. i asked petros and apparently they're donkey stables. the local donkey parking lot! until just 30-40 years ago, each household owned a donkey. back then, not many people owned cars. now there are many small hatchbacks or mopeds driving around (much smaller in comparison to the massive american SUV's or even the compact sedans and kei-cars of tokyo).
初日に行ったスブラキ・スタンドの向かいに見かけた横長に繋がった建物。小さな窓は赤・黄・緑・青の原色に塗られていました。でも、ドアも人の気配もないので、何の建物なのか気になりました。ペトロスに聞いたら、30〜40年前にロバ小屋として使用されていたようです。その頃、各家庭に車ではなく、ロバが飼われていたので、公共のロバ駐車場でした。今は、日本の軽自動車に比べても小さな車や原付バイクがほとんどです。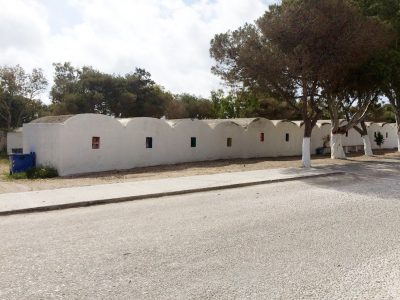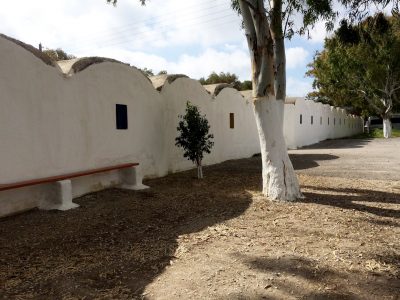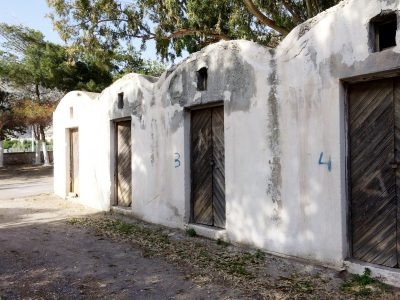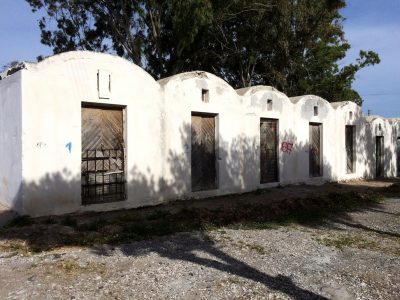 – W H I T E T R E E S –
– 白 く 塗 ら れ た 木 々 –
i'm so curious as to what the white paint is for!
謎の白い木々!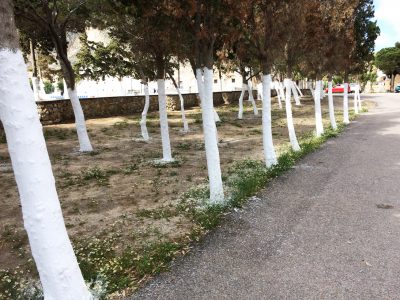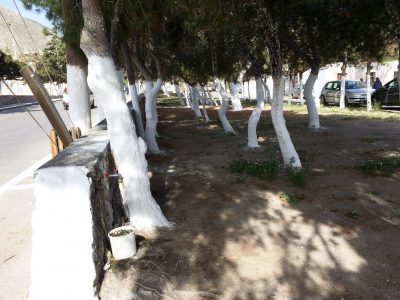 – T H E S O U V L A K I S T A N D –
– ス ブ ラ キ ・ ス タ ン ド –
i was here practically every day! for lunch on the days in and for dinner after all the hiking and touring. the chairs matched the color of the donkey stable windows! i see a lot of these primary colors around santorini, like the flower pots i saw in fira.
観光していない日の昼食や一日出かけていた日の夕飯にと、ほぼ毎日立ち寄っていたスブラキ・スタンド。ギリシャ名物のスブラキは、一口大に切った肉や野菜などの串刺し料理です。ポテトフライや野菜とともにピタサンドに包まれて出されました。店内の椅子は、ロバ小屋と同じ原色。フィラで見た植木鉢も同じ色でした。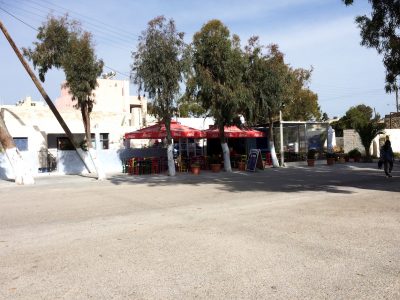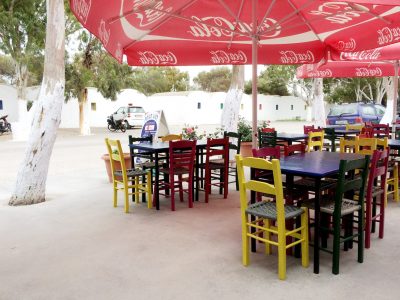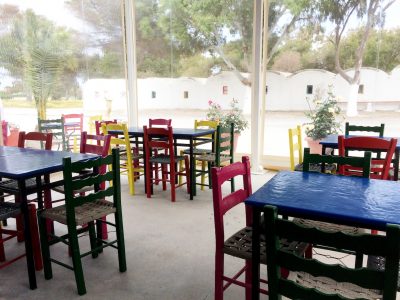 – C I N E M A –
– 映 画 館 –
on the third day, i decided to go see the fate of the furious (international movies in japan show much later, so i figured why not see it early?) at the cinema in kamari. kamari has a famous drive-inn theater, but it was much too cold for that. unfortunately, since the subtitles were in greek, i had no idea what was being spoken in the foreign language scenes…
三日目の夜、大好きなワイルド・スピードシリーズの最新作を観にカマリの映画館へ行きました!夏場であれば有名なドライブインシアターもあるみたいなのですが、シーズン前でまだ開いていませんでした。残念ながら、字幕がギリシャ語だったので、外国語部分は全然分かりませんでした…