i'm sure many people in the world have seen the characteristic buildings of santorini somewhere in magazines, instagram, television, or other media. they may not be exclusive to only santorini, but the first time i saw the sort of building was in a travel magazine several years ago. since then i have always remembered that photo from time to time.
多くの人は、サントリーニ特有の白い壁、丸い屋根の建物を雑誌やインスタ、テレビ、などで見たことあるかもしれません。サントリーニ以外の地にもあるかもしれませんが、私が初めてこのような建物を目にしたのは、美容室の雑誌。それから、時々思い出していつか行けることを願っていました。
a scattering of buildings on the steep cliffs of oia, similar to what i saw in that said magazine.
崖に沿って建てられているイアの街。例の雑誌で見たような風景。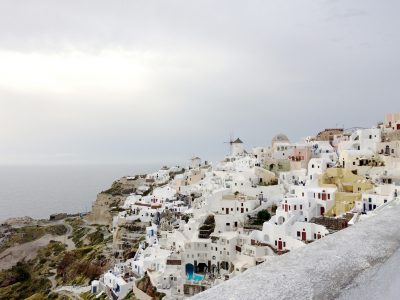 monasteries in kamari, where my hotel was located
泊まったホテルがあるカマリ市の修道院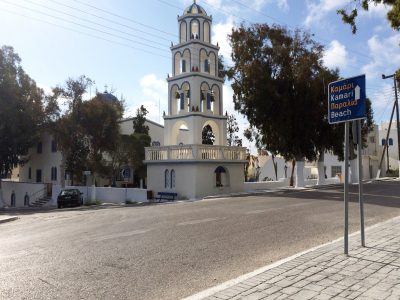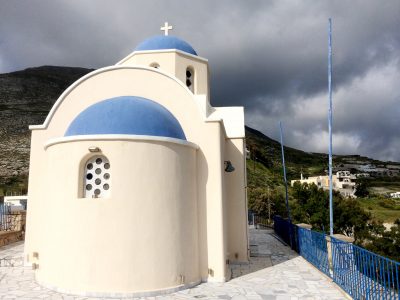 during the tour of the santorini caldera, our tour guide told us why the buildings were mainly white and blue. there aren't necessarily any rules on what colors they HAVE to be. in the days before electricity, the white walls would reflect the moon at night, providing light for residents to find their way home. the blue paint for the roofs were actually quite expensive–as one of the ingredients of the paint included silver–and are seen on many of the monasteries.
サントリーニ火山のツアー中にガイドが話してくれた白い建物の色について。特に色の規制があるわけではないようです。その昔、電気が通っていなかった頃、夜の暗闇の中で帰り道が分かるように、月の光を反射する白が使用されました。青い屋根のペンキは、実はとても高価なもので、銀が含まれていました。修道院の屋根に多く使われています。
i was intrigued to see some foundations of buildings while riding the bus. thira's tourism industry is still new and building at a rapid pace. i had visited at the very beginning of the tourist season and some hotels were still closed, preparing for the coming months. i saw many foundations that will become hotels (or homes and/or stores) as well. on the cliffs of fira and oia, there were many constructors working on hotels there, also.
バスに乗りながら時々見かけたのは建物の基礎。これからホテルやお店になるのでしょう。ティラ島の観光業界はまだまだ新しく、急速に進化しているみたいです。観光シーズンが始まったばかりだったので、閉まっているホテルがほとんどでしたが、準備や清掃作業が行われているのを度々見ました。人気のフィラやイアでも新しいホテルの仕上げ作業をされている所も多かったです。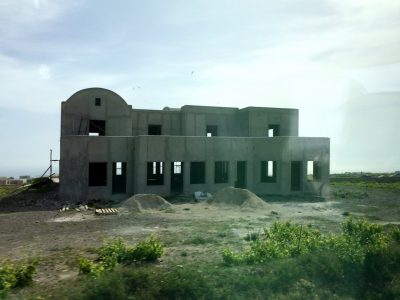 whether it was mid-construction pre-season, some almost look abandoned (see the photos below). unlike the concrete and steel grid foundations of skyscrapers in booming cities, these foundations are so basic, simple, clean, and even aesthetically pleasing–my father is an architect and it seems that i have taken a liking for geometric shapes.
そして、工事中にしては人の気配がなく、シーズン前なのか廃墟なのか、切ない感じもしました。都心で見るコンクリや鉄の基礎と違って、とてもシンプルな基礎はどこか美しく感じました。